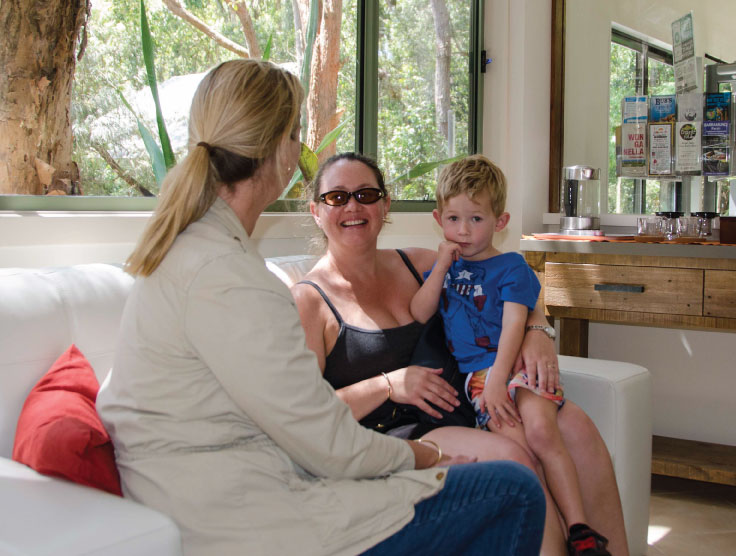 What our clients are saying.
We think our practitioners and facilities are the best in the area, but don't just take our word for it, read the many testimonials which are pouring in.
It was amazing! I will definitely be back to see Nadine for both reiki and readings. Thank you.
An amazing experience, I feel like a burden has been lifted and i can enjoy life again. Thank you Nadine for such a wonderful and relaxing time.
Love the 6.30am yoga class with Kelly! Best way to start the day.
Beautiful, tranquil surrounds run by absolutely lovely people. Thank you Mark & Cherrie for creating such a wonderful place with a fabulous array of services available. Ive enjoyed attending some very informative classes & experiencing mini treatments, yummy food from Kristy @ Real Food Culture & Kinesiology with Geraldine from Heart Connection. I recently had a facial with Linda & thoroughly enjoyed it. Linda is extremely knowledgeable & looks at your internal health as well as your skin. I've had many, many facials over the years & rate Linda's as one of the very best. Thank you Linda, my skin is already looking & feeling amazing & i can't wait for my next treatment x
Appointment with Fiona Brown

Fiona,

I would like to take a moment to thank you for helping me get through a hard time in my life, for the ongoing support between sessions and for the genuine interest in my wellbeing. I really enjoy coming to see you and I take away so much from our sessions. You have helped me to become the best person I possibly can be for both myself and my family and I truly appreciate that.

You are a beautiful person and i look forward to working with you some more in the future.
Massage with Fiona Scope

Fantastic, best value relaxing massage in years.
Last week I had a facial with Linda – I must admit this isn't usually my thing.. however I am converted! Linda is so much more than a beauty therapist she has over 30 years experience in the industry and knows her stuff. Linda is all about repairing your skin to a point where you don't have to wear makeup to cover anything up and preventing your skin from any damage (or further damage if you are like me and spend a lot of time in the sun). Thanks Linda.
To Cherrie and Mark

I recently attended the wellness centre for a couple of days. It was a delight exploring the Anna Bay area and particularly enjoyed meditating on your amazing sand dunes with a spectacular view of the beautiful coastline.

While at the centre I decided to choose treatments that I hadn't tried prior to my visit. Reiki was first which was a relaxing and cleansing experience for me. I hope I have the name correct, (Nadine) was professional and warm in her approach and I had faith in what she was doing.

I would like to especially make mention of Fiona. I had never undergone hypnosis and wasn't sure what to expect. The first thing that impressed me was the fact that Fiona contacted me about my concerns. She too was professional in her approach and to my amazement the hypnosis has worked and to be honest, I am both fascinated and bemused by its success (particularly as I have no real knowledge of hypnosis) Fiona has also gone that one step further and has emailed me to enquire about my well being, no doubt she is a talented and accomplished practitioner. I am certainly lighter and freer after experiencing hypnosis.

Also I would like to say that the yoga instructor was also very good and her class suited the people who were participating.All in all I departed from The Oasis refreshed and certainly in a better spot mentally than when I arrived. Could you please pass on my praise and gratitude?

Thank you
Aromatherapy Massage with Naomi

It was amazing & I'll be back & happy to recommend to others.
Performance Facial With Linda

Outstanding treatment !! I can honestly say I have never had a facial like the one Linda gave me … I am already thinking I need to book another appointment… and the venue makes it all the more special ~ how lucky are we to have an 'Oasis of Wellness' in our backyard! Love your work & thank you.
Last night was my first visit the the Wellness Centre in Port Stephens. I was lucky enough to go along to the Earthen Rhythms African Drumming Class to take some photos of the group in action. What a beautiful, serene space you have created, and such a credit to you. We are so fortunate to have such an amazing facility offering such a wide range of holistic services to our area. Thank you 
The Pilates class out on the deck was amazing. To be amongst nature listening to the bird life is very special. The oxygen therapy session was a fabulous bonus!
I had such a beautiful yoga class with the view of the trees and the sounds of birds and water flowing. Looking forward to coming back.
Started my morning at the beautiful Wellness Centre practicing some much needed yoga with Kelly Chadbourne. Nothing beats morning yoga in the open air with good company 

This place is nothing short of amazing, it has the most relaxed feel (you know that feel when you don't want to leave!!)

Thank you for the amazing class Kelly!! 
I had the pleasure of attending the Port Stephens Women in Business meet yesterday at the newly opened Wellness Centre. The energy and surrounds of this new centre is amazing and I cannot wait to return for a retreat or treatment. It was so wonderful meeting so many gorgeous women and connecting with my biz partner Kylie Smiley. I love the supportive, local community of this womens group and secretly wished I lived closer. A highlight was the food (you know me it's always the food) and it didn't disappoint. Thanks to the gorgeous Kristy from Real Food Culture for her morsels of goodness this vegan was in heaven.  
Much needed morning with one of my favs today  yoga & meditation at the incredibly beautiful wellness centre! We felt completely immersed in self love, definately make time to visit this gorgeous place!! I could have stayed there all day