Upcoming Retreats & Workshops
Wellness Centre Port Stephens is a part of The Oasis at One Mile Beach, Boat Harbour. A tranquil haven set amongst five acres of secluded bushland and subtropical gardens. Wellness Centre Port Stephens is excited to present a range of events, workshops and retreat programs, all with a strong focus on health, wellbeing and true healing experiences. 
Click on the links below to find out more.
Finding the Calm Within
In life we feel a need to fulfill many expectations in the material world around us and life simply goes by too quickly. This workshop is about coming back to 'you', feeling at peace amidst the storms and developing resilience.
Enjoy a session of yoga, meditation and info on nutrition to support you and your health.
This workshop can be booked for an individual or group. Please contact us by email or phone 02 4982 2801.
Sciatic Runway Workshop
Sunday, 16 February 2020
Join us for this practical and helpful workshop where you will..
– Relieve your sciatic pain
– Learn about the Sciatic Nerve and corresponding muscles
– Learn what aggravates & what relieves the sciatic nerve
Taught by Fiona Scope, Dip RMT, Dip Yoga
Date: 16 Feb 2020
Time: 10:00am – 11:30am
Cost: $45
Spinal Release Workshop
Sunday, 15 March 2020
Relieve back tension and pain with this interactive and practical workshop.
Your workshop facilitator, Fiona Scope will take you through a range of spinal exercise from Oki Do Yoga that will:
– Stimulate the nervous system
– Increase blood circulation
– Release muscles and tension in the back
– Relieve headaches
Learn a self-help exercise system and take home handouts to practice at home.
Date: 15 March 2020
Time: 11am – 12:30am
Cost: $45
Winter Wellness Retreat
27-29 March 2020
Come and join us for a weekend of rejuvenation, movement and play through Yoga, Naturopathic and Food as Medicine workshops, Nourishing Healthy meals and a opportunity to let go.
Psoas Release Workshop
Sunday, 5 April 2020
The Psoas muscle is a deep-seated core muscle in the pelvis connecting the lumbar vertebrae and femur. Come along to the Wellness Centre Port Stephens and learn exercises and breathing techniques to alleviate symptoms.
Symptoms of a shortened, weak or tight psoas include:
• Lumbar lordosis (sway back)
• Shallow breathing
• Lower back pain
• Find out how sedentary activities, stress or anxiety can affect this muscle
Taught by Fiona Scope, Dip RMT, Dip Yoga
Date: 5 April 2020
Time: 10am – 11:30am
Cost: $45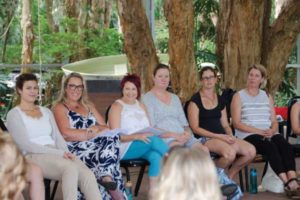 Hire our venue or create a retreat
Hire the Wellness Centre Port Stephens for your next retreat, health event or group event. We are a beautiful natural resort located in an ideal spot with the beach, bush and town all close by. We have a yoga studio, workshop space, out door events spaces, kitchen, treatment centre and self contained cabins for accommodation.
Do you belong to a group or association that could do with a break away? Is it time to reward your clients or your carers? We would be happy to work with you to provide a custom made, cost effective retreat program that will allow your group to get away to renew, restore and relax.