In this practical workshop the aim is to release tight muscles & stiff joints in & around the hamstrings & lower back areas by using simple yoga techniques in practising the classical yoga poses.
The first part of the workshop is presented in the Iyengar method. It offers the opportunity to learn how to ease muscular tension & joint stiffness caused by anatomical misalignment, incorrect posture & the natural aging process.
The second part of the workshop is comprised of a Yin restorative practice. Releasing and strengthening the hamstrings & lower back. Creating more space within this region of the body will gain mobility, clarity and overall liberation of wellbeing.
Investment:
Only $65
Price includes: Light refreshment and snack
*Only 20 spaces available* Payment required at the time of booking
For your own comfort please arrive on an empty stomach, (advised not to eat up to 2hrs before workshop, if possible)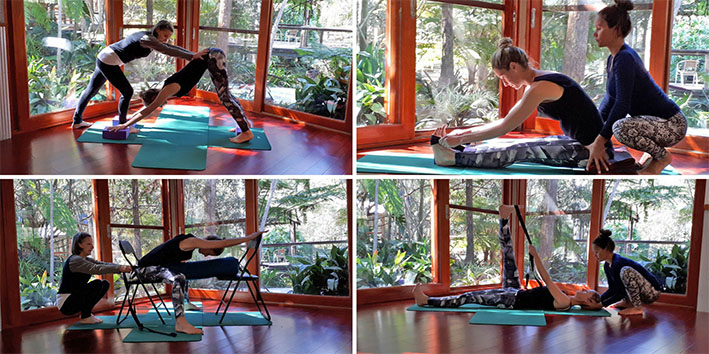 About Our Teachers
Vim Lane,
certified Iyengar yoga teacher 

Following a teaching career, I settled in Australia to take up yoga, an interest I have pursued since my days at university.
As a certified Iyengar yoga teacher, I have practised and studied yoga for over 20 years and conduct my classes in the traditional Iyengar method.
The focus in my personal practice and teaching is on developing inner and outer strength by exploring the calmness and clarity that comes with working the body, mind and breath.
Kelly Chadbourne
Yoga is for anyBody who is willing…..
Exploring the self on a physical, mental, emotional and spiritual level is a path paved towards meeting our authentic selves"
Kelly is a certified Purna/Hatha Yoga Teacher who has been practicing Yoga for over 10 years. Purna Yoga represents a holistic approach to yoga integrating not just the physical postures but also philosophy, meditation, pranayama breath control and the yogic personal and social code of ethics. The postural instruction is alignment focused. Sequences range from gentle restorative to dynamic. Blocks, belts and bolsters are available to be used to support and modify postures safely.