Are you ready to start afresh for spring? Then don't miss this workshop from The L.I.V.E Project!
The L.I.V.E Project: LOVE INSPIRATION VITALITY EMPOWERMENT aims to help women nurture their mind, body and spirit through educational seminars, workshops and multi-day retreats.
Topics include emotional wellbeing, clearing stuck energies, improving nutrition, detox strategies and building resilience and self-worth.
This full day workshop includes over six hours of content, one hour yoga class, half hour meditation session, tools and strategies, all notes & materials, a healthy & delicious lunch, morning & afternoon teas.
So if you need a fresh start please join The L.I.V.E Project and spend a day investing in YOU.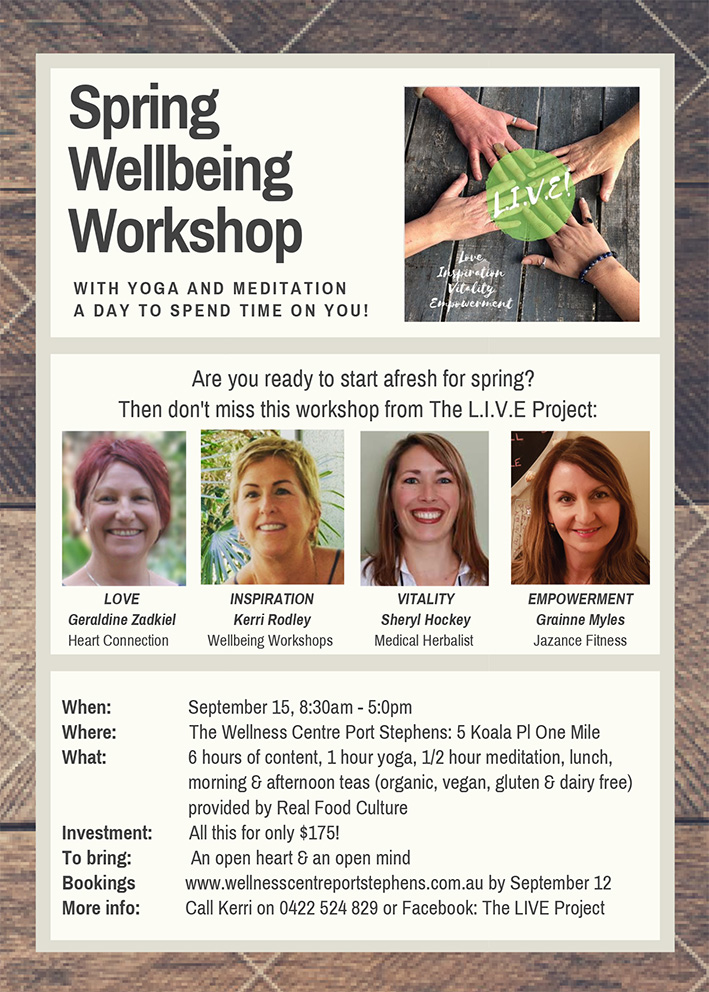 ---
Book and pay by Wednesday 12 September for catering purposes. No cancellations or changes allowed within 24 hours of the workshop. In fairness to all attendees and out of consideration and respect for the organisers, if you are unable to give us the minimum 24-hours advance notice of cancellation, and we are unable to fill your spot, you will be charged 50% of the workshop fee of $87.50.
---
Detox your Diet 101.
You are what you eat! So what is REALLY in your food? Detox your diet 101 offers the opportunity to learn how to read food and product labels and understand how your food choices have a big impact on your health! We will give you the tools to be able to demystify what's in your shopping trolley, and how to make better food choices that will empower you to make positive changes at the checkout to enhance your health.
Spring clean your life!
How to let go of the stuff and create space for new opportunities.
Learn how to create domestic bliss in your home – and your life!
Discover techniques and tips to declutter and let go of the "stuff" that is holding you back and causing blockages in your life.
Discover what is important, useful or beautiful in your environment and be inspired by organising solutions to control your possessions and your stress.
Learn how to create a balanced and flowing living space and learn how letting go relieves stress and opens up your life for new opportunities.
Learn tips and strategies that bring you into a focused state of flow, clearing mental clutter and creating a sense of peace and ease in your life.
Become your calm and centred self.
Throughout this workshop we will explore physical reactions to toxic emotions cause chronic illness and pain in the body. We look at what you can do to prevent illness in the body through Self Empowerment and Emotional Wellbeing. Emotions are so important for our overall wellbeing, in this workshop we will explore easy and effective ways to reduce everyday stress and calm our emotions. You will learn practical tools that you can use easily and effectively each day including introduction to Mindfulness and Meditation.
Tips for being the best version of you.
Personal development and positive mindset.
Your mind is the most powerful part of your body, so it too needs to be nurtured, nourished and given a little bit of love. Your mind also houses your thoughts and thoughts – when repeated and compressed – become beliefs. How many of us hold the belief that we're "not good enough"? Or we're "not capable enough"?
This workshop offers you some tools and strategies to improve your relationship with yourself – and ultimately with others, as well as invite you to realign with your values and work towards achieving your goals – thereby empowering you to be your best version.